Smarter Degree
Overview
Smarter Degree, an NCCRS member since July 2023, was founded in 2022 with the vision of offering practical pathways for underserved students to more easily access educational resources and pursue higher education. The entire organization aims to enable students to achieve the dignity of a respectable livelihood for themselves and their families and help them positively impact their community.
Smarter Degree endeavors to make it possible for adult learners in many walks of life from law enforcement officials to marginalized populations, to earn a bachelor's degree in a number of disciplines. These disciplines generally offer our students real time knowledge applicable to their current employment and life needs. Students consult with the Smarter Degree team to cater to their custom education needs whether its business, legal, law enforcement, educators or those looking for a career change.
The goals of the coursework with Smarter Degree is to enable students to have the proper critical analysis and thinking skills to tackle current and new challenges that may arise both in their education and their current professional field. The Organizational team has combined decades in Education and Student Advisory and decided to launch this platform to assist in bringing their background knowledge of high-quality education to a broader audience of students nationally who are challenged with the need to balance work and family responsibilities together with their education.
Source of Official Student Records
Dr. Rapaport, Director of Education
1111 Park Centre Blvd. Suite #201
United States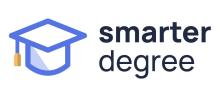 Descriptions and credit recommendations for all evaluated learning experiences