Office of the Sheriff of the City of New York
Overview
Office of the Sheriff of the City of New York, an NCCRS member since February 2023, performs the duties prescribed by law as an officer of the court and conservator of the peace within the City of New York. The Sheriff's Office performs such additional and related duties as may be prescribed by law as well as duties directed by the Mayor, City Council and Commissioner of Finance. These duties manifest across a wide spectrum of criminal, civil and regulatory law enforcement functions. The City Sheriff works with the public, the criminal justice system, and community stakeholders to safeguard the lives, rights, and property of all people we serve.
The primary mission of a law enforcement agency is to maintain social order within prescribed ethical and constitutional limits, while providing professional law enforcement services. To attain this, the Office of City Sheriff enforces the law in a fair and impartial manner, recognizing both the statutory and judicial limitations of the sheriff's authority and the constitutional rights of all persons. The Office of City Sheriff recognizes that no law enforcement agency can operate at its maximum potential without supportive input from the citizens it serves. The Office of City Sheriff actively solicits and encourages the cooperation of all citizens to reduce and limit the opportunities for crime and to facilitate the maximum use of resources. We strive to complete our mission in a manner that maintains the trust and confidence of the people of the City of New York
Students and admissions representatives please note: NCCRS does not provide transcripts. Transcript requests and inquiries should be directed to the organization offering the courses, examinations or apprenticeship. See the Source of Official Student Records contact information in the sidebar near the top right of this page.
Source of Official Student Records
Undersheriff Fredric Davis, Principal Firearms Instructor; NYC Sheriff's Office Firearms & Tactics Unit
Long Island City
,
NY
11101
United States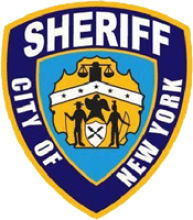 Titles of all evaluated learning experiences
Descriptions and credit recommendations for all evaluated learning experiences
Location:
30-10 Starr Ave., Long Island City, NY 11101
Length:
670 hours, including 251 hours of supervised field practice. 
Instructional delivery format:
Traditional classroom model
Learner Outcomes:
Upon successful completion of the course, students will be able to: evaluate the application of constitutional law to real world scenarios; evaluate approaches and responses to situations involving individuals exhibiting mental health issues; synthesize information based on situational awareness to prepare written reports; assess and identify safety and security needs in preparation of large events; demonstrate driving skills and methods which allows them to develop safe driving behaviors and safe driving habits; demonstrate the critical behaviors and safe driving habits needed by officers in emergency response situations; demonstrate a proficiency in community interaction, suspect apprehension, processing arrests, vehicle operation, vouchering evidence, report writing and officer safety; perform at the 50th percentile in the areas of muscular endurance and cardiovascular capacity or meet a physical fitness standard that has been properly validated demonstrating job relatedness to the physical tasks necessary to be performed by a police officer; identify the behavioral signs and major causes of emotional distress, mental illness, substance abuse, medical conditions, and situational problems; assess and intervene effectively in situations involving emotionally distressed persons; effectively document observations and interventions when involved in situations with an emotionally distressed person; define the role, responsibilities and standards of law enforcement and peace officers; describe constitutional law as applied to the exclusionary rule; exercise effective listening skills to assess situations and document factual information and observations accurately and sequentially; synthesize information and fact patterns; properly execute a concise, and accurate New York State incident report; analyze effective strategies and techniques during police interactions; apply understanding of procedural justice, community policing, professional communications, and defensive tactics to policing special populations; understand and explain constitutional requirements for police in the areas of standards of proof, search and seizure, temporary questioning of people in public places, interview and interrogation, evidence concepts and accusatory instruments.
Instruction:
The Basic Course for Peace Officers conducted by the New York City Office of the Sheriff consists of classroom instruction and field instruction. The curriculum integrates major themes that correspond to academic content areas taught over six months. Students must successfully complete all components of the course including field experience, physical education, and related required training in areas such as National Incident Management System (NIMS) to access credit recommendations.
Credit recommendation:
In the lower division baccalaureate/associate degree category, 26 semester hours distributed as follows: 1 semester hour in Emergency Vehicle Operations; 4 semester hours in Criminal Law; 6 semester hours in Police Administration and Police Operations; 4 semester hours in Crisis Intervention; 5 semester hours in Health Science or Physical Education (including 1 semester hour in Cardiopulmonary Resuscitation (CPR) training); and 6 semester hours in Internship in Police Administration, Police Operations, Police Science or Criminal Justice (2/23).