Empire State University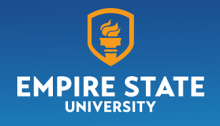 Degrees Available:
Empire State University offers individually-designed associate and bachelor's degrees (Associate in Arts, Associate in Science, Bachelor of Arts, Bachelor of Science, Bachelor of Professional Studies) in 11 areas of study: Arts; Business, Management and Economics; Community and Human Services; Cultural Studies; Educational Studies, Historical Studies, Human Development, Interdisciplinary Studies, Labor Studies, Science, Mathematics and Technology, Nursing, and Social Theory, Social Structure, and Change. Master of Arts degrees in liberal studies and several policy studies areas are also available, as well as a competency-based Master of Business Administration (MBA) degree. A Master of Arts in Teaching (MAT) degree is available for those who want to teach in school districts in New York state's larger cities (the list of degree programs generally contains those designed to accommodate working adults and nontraditional students).
Forms of Credit:
In addition to regular transfer of transcripted credit, the university awards advanced standing credit based on a range of noncollegiate sources: proficiency examinations (CLEP, ECE, TECEP, DANTES Subject Standardized Tests (DSST)), learning experiences evaluated and recommended for credit by NCCRS and ACE-CCRS, military educational experiences recommended for credit by ACE, licenses, certificates and training evaluated through Empire State University's own evaluation process, and individualized assessment of prior university-level learning by faculty or university-selected experts.
Up to 96 credits of the 128 credit bachelor's degree (or 40 credits of the 64 credit associate degree) is possible through advanced standing.
Additional Information:
Each undergraduate student completes an educational/academic planning process during which the individualized degree is designed and potential advanced standing is developed.
The university's adult students earning bachelor's degrees on average receive about 50 credits of transfer transcript credit and about 40 credits of advanced standing based on noncollegiate sources.
The university has learning centers throughout New York state, with major centers in New York City, Long Island, Hartsdale, Albany, Syracuse, Rochester and Buffalo, and in over 25 other locations. For a map of all the university's locations go to www.esc.edu.
The Center for Distance Learning offers totally online degrees.
Contact Information
Office of Collegewide Academic Review (OCAR) or the Office of Academic Review at the Empire State University regional learning center near you
Saratoga Springs
,
NY
12866-6048
United States