NCCRS Evaluator Spotlight - Rabbi Moshe Shur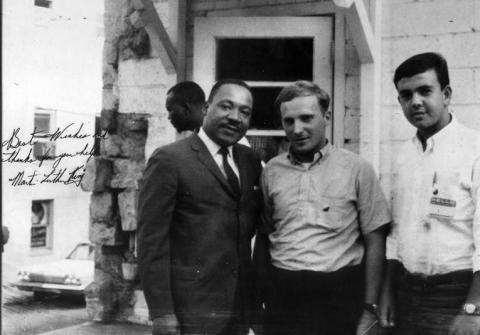 QUEENS COLLEGE STUDENTS TO WALK IN FOOTSTEPS OF DR. KING
 -- Led by Rabbi Moshe Shur, 14 Ethnically and Religiously Diverse Students Will Visit Atlanta and Birmingham and Meet With Leaders of Early Civil Rights Struggle --
FLUSHING, NY, January 13, 2016—When Rabbi Moshe Shur was in college, he joined other student volunteers in a 1965 and 1966 summer initiative to register disenfranchised voters in six Southern states. As president of the student participants in this national project begun by Rev. Martin Luther King's Southern Christian Leadership Conference, Shur met Dr. King who, he says "became a mentor for our lives."
Martin Luther King Day is a moment in history for today's students, but for Shur, it is a living memory that "branded" him and molded his future. Now an adjunct professor at Queens College of the City University of New York and the retired campus director of Hillel, Shur is attempting to bridge that generational disconnect by deepening students' understanding of that era in a very personal way. His project, begun last year, "In the Footsteps of Dr. King," will bring him and 14 QC students to Atlanta, Georgia, and Montgomery and Birmingham, Alabama, from January 17-21, 2016. The students—Muslim, Christian, Jewish, African-American, and immigrants from many nations—reflect the population of one of America's most ethnically diverse colleges. It is the second time Shur will be leading students for the project; he traveled south with 18 students on the inaugural trip in January 2015.
The students will not only be visiting museums, memorials and historically important sites, participating in a Martin Luther King Day march, and viewing the film Selma, but also meeting with people who played an active role in the civil rights struggle. These will include Barbara Emerson Williams, daughter of Rev. Hosea Williams (Dr. King's assistant), whose family foundation established Hosea Feed the Hungry in Atlanta. Throughout the trip, students will be using video, photography and writing to record their experiences, which they will share in a campus-wide presentation this spring semester.
Queens College has a long association with the civil rights movement and has a renowned civil rights archive: http://archives.qc.cuny.edu/civilrights/. The White House awarded the Medal of Freedom posthumously to QC student Andrew Goodman, who was murdered with James Chaney and Michael Schwerner on June 21, 1964, in Mississippi for their voter-registration work. The college's clock tower is named in their honor.
"In the Footsteps of Dr. King" is sponsored by the Queens College Student Association, Division of Student Affairs, the Office of Student Life, and New York City Council Member Rory Lancman. This project is dedicated to the memory and vision of David S. Taub.
Photograph: Civil rights activists Moshe Shur and Peter Geffen (center and right) with Dr. Martin Luther King, Jr. in Atlanta, Georgia in 1965.