FDNY Celebrates 150th Anniversary in 2015
Thursday, January 1, 2015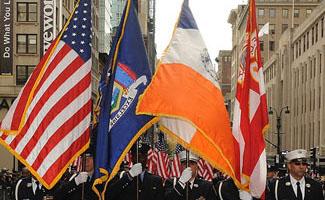 Mayor Bill de Blasio and Fire Commissioner Daniel A. Nigro announced details for the city's year-long celebration of the FDNY's 150th anniversary in 2015.
The FDNY, established as a paid professional organization in 1865, will host a series of events throughout the year, including multiple community-based events. They will be designed both as a celebration of the Department's history of service and to encourage young men and women to pursue the extraordinary public service careers available in the Department as firefighters, paramedics and EMTs.
FDNY will also be participating in several prominent New York City events in 2015, including the NBA All-Star Game and the 110th Annual Progressive Insurance New York Boat Show. 
During the announcement, Mayor de Blasio and Commissioner Nigro unveiled a new logo for the 150th celebration, created by NYC & Company. The logo features axes and the Star of Life - universal symbols of firefighters, paramedics and EMTs - as well New York City landmarks, including the Statue of Liberty and One World Trade Center. NYC & Company also created a special video to mark the occasion.