Diller-Quaile School of Music, Inc. (The)
Overview
The Diller-Quaile School of Music, Inc., an NCCRS member since May 1993, was founded in 1920 by pianists Angela Diller and Elizabeth Quaile. Because the School's founders believed that the capacity for understanding and creating music exists in everyone, it was essential that their music provide a dynamic and well-rounded experience not just for select students, but for all. Together, they initiated a comprehensive approach to teaching music, correlating individual piano lessons with classes in musicianship and theory. Their purpose was to develop musically sensitive and receptive individuals who played with the eloquence that comes from understanding the structure of music, and the inner relationships of musical elements within a composition. Through inspired teaching, they would awaken in students a responsiveness to the beauty of music and to the subtleties of artistic performance.
The first teachers at the School were selected from among the two founders' adult pupils. As the School grew, so did the need for more teachers, and formal teacher training courses evolved. In addition to developing materials for teachers, Angela Diller and Elizabeth Quaile collaborated to write the well-known Diller-Quaile Series, publishing the "First Solo Book" in 1918. Ultimately, they wrote 40 books, which have sold more than two million copies worldwide. Fifteen of these publications are still in print and currently used in individual lessons and classes at the School.
Today, The Diller-Quaile School of Music is a thriving community music school on the Upper East Side of Manhattan, comprised of the Early Childhood, Instrumental and Vocal, Adult, Teacher Training, and Outreach. Curricula emanate primarily from international folk music and classical music. Throughout the academic year, Rug Concerts, master classes, student recitals, performances by faculty and guest artists, and special events are offered. Diller-Quaile annually enrolls 1,000 students of all ages. Additionally, the School's extensive Community Programs brings the spirit and mission of Diller-Quaile to more than 1,000 individuals throughout New York City.
Diller-Quaile's mission is to develop the innate musicality in each individual, inspiring participation for a lifetime.
Students and admissions representatives please note: NCCRS does not provide transcripts. Transcript requests and inquiries should be directed to the organization offering the courses, examinations or apprenticeship. See the Source of Official Student Records in the sidebar near the top right side of this page.
Source of Official Student Records
Vanessa Cascio Registrar/Bursar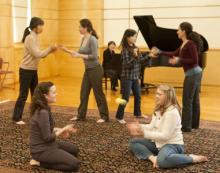 Titles of all evaluated learning experiences
Descriptions and credit recommendations for all evaluated learning experiences