Excelsior College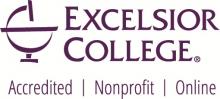 Type of Institution:
Private, nonprofit, comprehensive
Degrees Available:
Excelsior College has over 40 degree and certificate programs including degree and certificate programs at the associate, baccalaureate and master's levels, among its Schools of Business, Technology, Health Sciences, Liberal Arts, Public Service and Nursing. Excelsior College programs are designed for working adults and nontraditional students.
Forms of Credit:
Excelsior College is a credit aggregator and students may transfer in all but one class; this capstone course must be taken online with Excelsior.  While Excelsior accepts nonduplicated credit in transfer, not all prior credit earned may be applicable to certain degree requirements.  The college accepts credits from:
Regionally accredited colleges and universities, those recognized by New York State Education Department, and those evaluated by the Excelsior College faculty that follow acceptable educational practices and are applicable toward the selected degree program.
Proficiency examinations (uExcel, AP, CLEP, GRE Subject Exams, DANTES and others);
Coursework evaluated as college level by NCCRS OR ACE College Credit Recommendation Service,
Military education evaluated by ACE (enlisted ratings, military occupational specialties and service schools); and special assessment.
Prior learning assessment, workforce training and other sources.
Additional Information:
Excelsior College was established in 1971 by the New York State Board of Regents as its external degree program and was formerly known as Regents College. In 1998, the college was chartered by the Board of Regents as a private, independent, nonprofit institution and changed its name to Excelsior College.
Excelsior's philosophy is "It's what you know, not how or where you learned it".  There is no limit on transfer credit except for the capstone course as long as students meet degree requirements.
Excelsior also offers a credit bank program, OneTranscript, for those who are not seeking a degree but are looking to document training in one place. 
More than 30,000 students are currently enrolled with Excelsior, 90 percent of whom are from outside New York State. Approximately 5,000 students earn degrees each year, and the college has over 150,000 graduates in total.
The majority of Excelsior students are working adults employed full-time.  Approximately one-third of Excelsior's enrollment is from groups historically underrepresented in higher education, and approximately 25 percent of its students are active duty or reserve military.
Excelsior College is accredited by the Commission on Higher Education of the Middle States Association of Colleges and Schools.
Excelsior's nursing programs are accredited by the Accreditation Commission for Education in Nursing (ACEN), formerly known as the National League for Nursing Accrediting Commission (NLNAC). The School of Nursing has also been designated a National League for Nursing Center of Excellence in Nursing Education, Student Learning and Professional Development 2005-2016.
The baccalaureate degree programs in electronics engineering technology and nuclear engineering technology are accredited by the Technology Accreditation Commission (TAC) of the Accreditation Board for Engineering and Technology (ABET).
Business programs are accredited through the International Assembly for Collegiate Business Education (IACBE)
The Master of Arts in Liberal Studies program has been accepted into full membership by the Association of Graduate Liberal Studies Programs (AGLSP).
The National Security Agency (NSA) and the Department of Homeland Security designated Excelsior as a National Center of Academic Excellence in Cyber Defense Education.
UExcel Examinations are recognized by the American Council on Education (ACE) College Credit Recommendation Service for the award of college-level credit.
Phone:
(518) 464-8500 ext. 27 or (888) 647-2388